| | | |
| --- | --- | --- |
| | This dragon already exists. Please don't flag this page for deletion, as the fanon dragon was made before the real one. | |
Autumn Dragon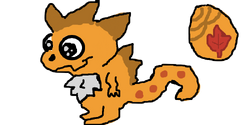 ---
"Right after the last wild Summer Dragon left the world, the witch Samhain found a new dragon playfully jumping into a new pile of orange leaves in the Hatchwood Forest. She named the animal the Autumn Dragon, to celebrate the new season of Fall."
---
More info
Available
Level 14
Habitat
Seasonal
Incubation Time
24 hours
Breeding Time
24 hours, 19 hours 12 minutes upgraded
Positive
N/A
Negative
N/A
Buying Price
1500
Selling Price
1,500,000
Hatch
950,000
Level 1: 143 DragonCash; Level 5: 198 DragonCash; Level 10; 257 DragonCash
These numbers are not affected by boosts.
The Autumn Dragon can be bred with the elements of Air, Earth, and Fire.