Bloodstone Dragon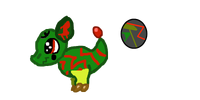 ---
"The Bloodstone Dragon's name might be scary, but don't worry, they're harmless! These dragons are related to Aquamarine Dragons. The Bloodstone Dragon, like all other Gemstone Dragons, cannot breed."
---
More info
Available
Level 1
Habitat
Gemstone Island
Incubation Time
31 hours
Breeding Time
31 hours
Positive
N/A
Negative
N/A
Buying Price
1,657
Selling Price
1,000,000
Hatch
850,000
Appearance
Edit
The Bloodstone Dragon is dark green. It has red markings on it. It has two yellow legs. The Bloodstone dragon's egg is gray, with red and green markings.
References
Edit
 In the description, the Bloodstone Dragon is related to the Aquamarine dragon. This is because Heliotrope (also known as Bloodstone) is the traditional birthstone of March.
The breeding and incubation time is 31 hours, because March is 31 days long.
The price, 1,657 , is a reference to it's hardness on the Mohs scale, 6.5–7.