Christmas Tree Dragon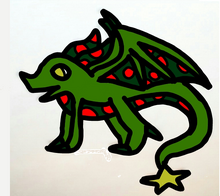 ---
"The Christmas Tree Dragon's jolly nature and the beautiful glowing star on its tail make visitors flock to this dragon as if it were giving away free candy canes!"
---
More info
Available
In December
Habitat
Plant, Cold, Light, Earth
Positive
Plant
Negative
Metal
Buying Price
1,200
Selling Price
1,200,000
Obtaining
Edit
The Christmas Tree dragon could be bred by breeding the Tree and Glare dragons in any order.
Appearance
Edit
The Christmas Tree Dragon is light green on most of its body. On its wings, underbelly, and other places are dark green. Red circles represent ornaments. A glowing gold star is at the end of the tail to represent the gold star at the top of a Christmas Tree.
The words jolly and candy canes are usually associated with Christmas time.
The number 12 is a reference to the month of December, the 12th month of the year.