Epithimo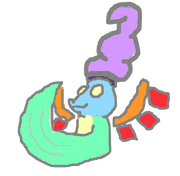 ---
"The legendary Epithimo loves to test people. In exchange for these tests, Epithimo grants a wish for you. Epithimo says it's for science, but I think he just likes to mess with people."
---
More info
Available
level 30
Habitat
Wishing Well Perch (it has water and coins)
Positive
unaffected
Negative
unaffected
Selling Price
N/A
Hatch
N/A
Epithimo is the legendary dragon of Wishes.
How to Earn
Edit
Unlike Kairos, Epithimo can be obtained by solving many levels of puzzles. They can be completed once per day. The puzzles are much like Tetris, having a certain number of points and moves to access the next level. Once the player completes a level, Epithimo will grant a small wish. Everytime you win a level, (which will get harder as you progress), you can grant a bigger wish. Once you complete the last and hardest level, Epithimo will get larger, but you can start over again, this time with slightly modified, harder puzzles. It will appear on top of the Gemstone Island along with its shrine.
What to Wish For 
Edit
When you win a level, here is an example of what prizes you can choose from:
Level one
1 gem
100,000 DragonCash
100,000 Treats
5,000,000 XP
Level two
5 gems
200,000 DragonCash
200,000 Treats
6,000,000 XP
Level three
10 gems
400,000 DragonCash
400,000 Treats
7,000,000 XP
and so on.
But when you finish the last level, (it would be very, very hard) you can pick from these prizes:
1,000 gems
10,000,000 DragonCash
1,000,000 Treats
Enough XP to rank up a level
For one expired dragon of your choice to be available to breed or buy for one week
The original name for Epithimo was Gantos.
This was changed to have an inspired name, as επιθυμώ, or epithymó̱, means wish in Greek.