Jelly Bean Dragon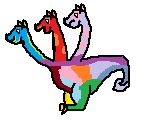 ---
"Jelly Bean Dragons are interesting to watch. Each head has very different personalities, and they argue a lot. Jelly Bean dragons are a colorful way to improve your park!"
---
More info
Available
Level 14
Habitat
Candy Habitat, Plant Habitat
Positive
Plant
Negative
Metal
Buying Price
900
Selling Price
99,000
Obtaining
Edit
The Jelly Bean dragon can be obtained by breeding two dragons, in any order, including the Candy and Plant elements.
Appearance
Edit
The Jelly Bean dragon has three heads. Each head shows a different mood. This dragon is colorful, like jelly beans.
The number nine is a reference to the number of heads the jelly bean dragon has.
It is bred with Plant and Candy because the flavors of jelly beans are usually fruit flavored.