Permafrost Dragon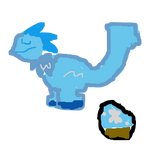 ---
"This two-legged dragon lives in the coldest reaches of Antarctica. Their breath is so cold, water vapor turns to crystals around them. As babies, their parents slather their necks in water, so ice crystals can form."
---
More info
Available
level 15
Habitat
Cold, Water, Lightning
Incubation Time
9 hours
Breeding Time
9 hours
Positive
Cold Boost
Negative
Fire Boosts, Water Boosts, Lightning Boost
Buying Price
1000
Selling Price
750,000
Hatch
1,000,000
Appearance
Edit
The Permafrost Dragon is a light, sky blue color with a yellow underbelly. They walk on two legs and don't have any arms. Their tail tip is the same shape as an axe. As adults and juvinilles, a ring of ice crystals surrounds their neck. Their eggs have light blue and yellow wavy lines.
Earning Rates

| Level One | Level Ten |
| --- | --- |
| 25 | 167 |
| Level Fifteen | Level Twenty |
| 268 | 307 |