Poseidon Dragon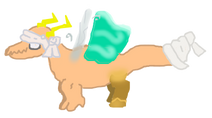 ---
"Many claim that this is one of the Gods of Tull, but this is actually a hoax, people believe this because their was a similar god in a city named Gerieshik called Poseidos, the god of water."
---
More info
Available
Yes
Habitat
Water, Lightning, Earth
Incubation Time
7.5 hours
Breeding Time
5.7 hours
Positive
Water, Lightning, Earth
Negative
Lightning, Water, Air
Buying Price
440
Buying Price
None
Selling Price
575,000
Hatch
575,000
The Poseidon Dragon can be bred using 2 dragons, in either order, containing Water, Earth, and Lightning elements at the Breeding Cave/Epic Breeding Island.
Possible Refrences
Edit
The city "Gerieshik" may be a refrence to the cities of Greece, where the myth of Poseidon was born.
The numbers 5 and 7, refrences Poseidons 5 siblings, and 7 children.
The number of gems, 440 is a refrence to when the "Temple of Poseidon" was built, in 440 BC.
Earning Rates
Edit
| Lvl. 1 | Lvl. 2 | Lvl. 3 | Lvl. 4 | Lvl. 5 | Lvl. 6 | Lvl. 7 | Lvl. 8 | Lvl. 9 | Lvl. 10 |
| --- | --- | --- | --- | --- | --- | --- | --- | --- | --- |
| 5 | 7 | 12 | 17 | 24 | 29 | 36 | 41 | 48 | 53 |
| Lvl. 11 | Lvl. 12 | Lvl. 13 | Lvl. 14 | Lvl. 15 | Lvl. 16 | Lvl. 17 | Lvl. 18 | Lvl. 19 | Lvl. 20 |
| 60 | 65 | 72 | 77 | 84 | 89 | 96 | 101 | 106 | 113 |