Wizard Dragon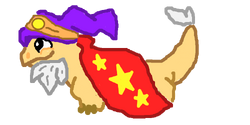 ---
"Many scientists believe in the 115+ elements, such as Mageonium, Garalcite, and Choron, many wizards believe in the Magic elements, this dragon was no exception, discovered by Ozzwaldo Flegming while he was studieing dragons, he noticed that things were out of control, and glittering with magic, as if something was using a telekinetic spell, when he found the problem, it was the first wizard dragon found."
---
More info
Available
Level 18
Habitat
Light, Air, Earth
Incubation Time
25 hours
Breeding Time
25 hours, 20 hours upgraded
Positive
Light, Air, Earth
Negative
Dark, Earth, Air
Buying Price
3600
Selling Price
2,500,000
Hatch
7,000,000
The Wizard Dragon can be bred using any 2 dragons, in either order, containing Light, Earth, and Air elements at the Breeding Cave/Epic Breeding Island.
Possible References
Edit
The elements known as Choron, Mageonium, and Garalcite, is closely related to a user on the Dragonvale Wiki named "ElektronX", her fan art included very similar names of legendary dragon concepts named Chronos, Mageo, and Gralce.
The wizard named "Ozzwaldo Flegming" is a reference to a movie named "The Wizard Of Oz" and its creator, Victor Fleming.
Earning Rates
Edit
| Lvl. 1 | Lvl. 2 | Lvl. 3 | Lvl. 4 | Lvl.  5 | Lvl. 6 | Lvl. 7 | Lvl. 8 | Lvl. 9 | Lvl. 10 |
| --- | --- | --- | --- | --- | --- | --- | --- | --- | --- |
| 25 | 35 | 45 | 55 | 65 | 75 | 85 | 95 | 105 | 115 |
| Lvl. 11 | Lvl. 12 | Lvl. 13 | Lvl. 14 | Lvl. 15 | Lvl. 16 | Lvl. 17 | Lvl. 18 | Lvl. 19 | Lvl. 20 |
| 125 | 135 | 145 | 155 | 165 | 175 | 185 | 195 | 205 | 215 |